Please check out at the front desk in the Guest House Reception Building. The front desk is open on weekends and national holidays as well (closed during the new year holidays: Dec. 29 – Jan.3). Check-out time is between 7:00 am and 10:30 am. At the time of checkout, please return the IC card and vinyl case and make payment in cash or by credit card (VISA or MasterCard only). The room rate are 2,000 yen/night (single), 3,000 yen/night (twin). Call the front desk at Ext. 8181 or 8182 for early or late check-out.
At the SPring-8/SACLA Users Office
When leaving SPring-8, please return your user card and glass dosimeter and leave the required documents in the return box in the Users Office North Building, Main Building 2F and SACLA Experimental facility.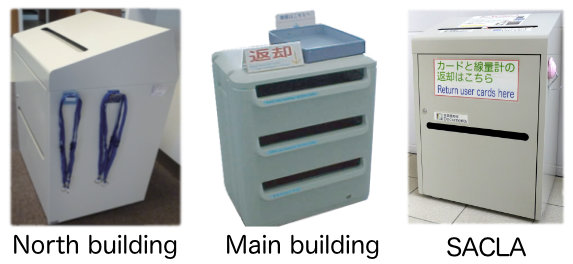 1

User Card/Dosimeter
All users
Return your user card and dosimeter separately in the return box.

2

Beamtime Report (Form 12 / Online)
Project leader
Provide the amount of beamtime and comments/requests on the Beamtime Report and submit online.